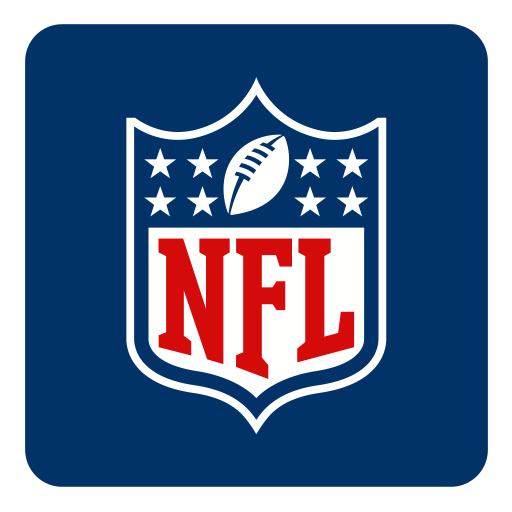 By Barry "Bear" Blanchard
Boy oh' boy, what a week of spectacles. I wasn't present to view them live, but the replays did not disappoint. DeAndre Hopkins made the greatest catch I've ever seen, Matt Prater made a phenomenal 59-yard field goal to spare the Lions another breakdown, and the Giants made their NFL presence felt with an upset of a relatively healthy Philadelphia Eagles. Then there are New England Patriots. Rainy Gillette Stadium played the perfect 12th man allowing Cam and company to grind out a huge win to save their season.
Honestly, I was still feeling pretty down after Thursday's debacle with the Titan's special team play. I went to church this week to pray for some sort of kicking competition between Stephen Gostkowski and Giorgio Tavecchio – Drumline style.
The Titan's went ahead and released Punter Ryan Allen who was playing in place of All-Pro Brett Kern. Now we play those ailing Ravens in a playoff caliber matchup with seeding implications front and center. This leads me to what I learned this week, the emergence of the lowkey defenses.
Last week, I talked about the heart of a competitor and their approach to the game, and the defenses on display last week exemplified that. I continue to be in awe of the Rams, Dolphins, and Raiders in particular. They play an unfamiliar brand of football in this day where offenses have taken over.
The Rams boast the best CB and DL in the league, but role players have been the true stalwarts of this unit. Jalen Ramsey even spoke about fellow CB Darious Williams and his phenomenal play.Then there's the Dolphins and Raiders. Even with no household names, they are demolishing opponents. The Dolphins, with their revolving door of running backs, and the Raiders with Josh Jacobs, are chewing clock galore and suffocating opposing run games.
Now I will say I saw this Dolphins dominance coming in the offseason, but the Raiders are the biggest surprise of the season to me. I love it because Jon Gruden is playing Madden in real life and it's working so this week, I'm dedicating my picks to the Madden Gods (they're real). May they use their shenanigry to help the Titan's defense reach their highest potential and guide me through the minefield that is trying to guess these Week 11 game scripts.
My first pick is by far my most difficult – Seahawks vs Cardinals.
Cardinals too much for Seahawks defense.
Why?
Kyler is my choice for MVP at this point in the season. Even with an immaculate late game throw to set up Hopkins for his league-defining catch, the greatest piece of information I have seen is the fact that Murray is 8th in rushing. That's not among quarterbacks, that's 8th among ALL RUSHERS. Kenyan Drake returned last week to contribute 100 rushing yards and is 7th in rushing. All this spells huge trouble for the leaky Seahawks defense that is historical bad. Russell is still a top 3 QB in the league and I'm sure he will rebound after his last 2 games where he has 7 turnovers but this Cardinals offense is too much to handle. Man I love Bill O'Brien!!
Now speaking of Bill O'Brien, both his old squads face off on Sunday afternoon and it is my 2nd toughest call of the week.
Texans shut down Patriots
Why?
Now I adore Cam Newton and want the Patriots to pull off this victory but I just don't feel it this week. The Texans were held in check by a stingy Browns defense last week along with Nick Chubb & Kareem Hunt gashing them to bits. Even so, they were able to hold to Browns to 10 points so with a softer Patriots defense on the docket in Houston, Deshaun Watson should enjoy a relatively easy day running around putting up points.  Maybe Super Cam shows up and happily makes me eat these words, but the Madden Gods are all about the defense baby.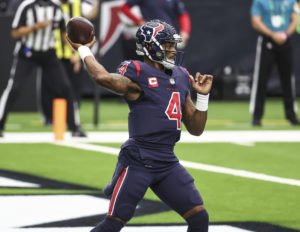 Steeler's defense mounts Jaguars
Why?
Well I will back peddle and give this Jaguars squad some props, they unexpectedly took it to Green Bay last week. Enter the undefeated Pittsburgh Steelers and we get the game I thought we would get last week. Big Ben shook off his injured knees like a pro and walloped the Bengals. I'm sure he will be able to pull off a repeat performance against these reeling Jaguars.
Since we are talking AFC South teams, might as well give you the most predictable pick.
Titans run over Ravens
Why?
Well first things first, we got our unis right. White helmet and blue britches to remind Baltimore of what happened to them last year. Next up, Baltimore is hurt on the defensive line with NTs Brandon Williams and Calais Campbell on the mend and trending towards missing this heavyweight bout. That bodes extremely well for Derrick Henry and this Titans offense as they know first-hand how much of a monster Campbell is from his days in Jacksonville. Finally, the Titans may get CB1 Adoree Jackson back which would be a huge boom for our suspect defense. It's times like this where I supremely miss Jurrell Casey and his leadership, but I have full faith in my boys to take care of business on Sunday!
Lions survive again vs banged-up Panthers
Why?
This team tries so hard to lose the game, I forget I'm not watching the Atlanta Falcons. After getting another 3 touchdown lead, the Lions once again almost squandered away the game with lackluster second half play. Enter the Carolina Panthers with no Christian McCaffrey once again and a hurt Teddy Bridgewater. I expect the Lions to put up points with the return of Kenny Golladay and I also expect it to be close again in the 4th but with The Boss Matt Prater behind them, they will squeak out another win.
As for the Football Team that roared back (see what I did there, roared), I sense they are get some get back versus ole Joe.
Washington outduels Cincinnati
Why?
Defense rules the day and the Bengals pass defense is pretty much non-existent. They were so desperate, they tried to play WR John Ross at corner and even he got hurt. Alex Smith looked pretty good against a solid Lion's D and with Joe Mixon looking like he won't be present for another week, The Madden Gods smile upon the Football Team with glee. So in disappointing fashion, the NFC Least remains wide open thanks to that other Ohio team.
Browns pummel Eagles
Why?
I am done with Philadelphia until they submit and put in Jalen Hurts. They choked away a much-needed division game last week versus the Giants and now they get a Browns defense that is quietly tormenting QBs and RBs alike. The Eagles D Line is not stooping Chubb either. Facts!!
For our final afternoon outing, it is the return of 30/30 Jaboo Winston!! The result??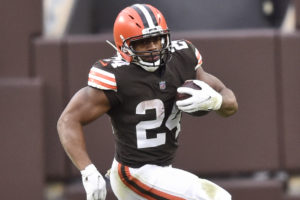 Jameis flourishes vs sub-par Atlanta D
Why?
I am one of those individuals on the "Jameis can see now!!" hype train. I absolutely love his style of QB play as he gives his receivers the opportunity to be all-stars. With Michael Thomas returning to stride and Emmanuel Sanders begging for a deep throw, I can fully foresee this Saints team blowing out the Falcons with explosive disregard. Plus the Saints D is legit. Although Calvin Ridley looks like he will return so a shootout isn't out the question. Still, Winston and Kamara are unmatched. Watch!
The afternoon is a tad bit smoother for me with finger full of excitement!
Chargers ground Jets
Why?
Herbert's new haircut is all the buzz (I am on a roll this week!) The Chargers are the NFL's little brother as they are right there every week, but can't quite get over the hump. Now it is there time to big boy someone and that someone is the wily vet Joe Flacco. Now I do think the Jets are a better team with Flacco under center than Sam Darnold but their defense is such a huge liability that the Madden Gods laugh!
Dolphins continue their dominance vs 3-legged Broncos
Why?
Tua Tagovailoa has stepped into a pristine machine. He plays the perfect brand of football to accommodate an aggressive defense. Tua has yet to turn the ball over and now they face a bruise and battered Broncos that may be without Drew Lock. That spells an easy W for this Dolphins squad looking to take advantage of DeAndre Hopkin's heroics to overtake the highly contested AFC East.
The battle for AFC supremacy brews on in Indianapolis as Aaron Rodgers comes to town. Now this one tests my theory about the Madden Gods so I will decide it based on one man.
Jaire Alexander dictates the outcome
Why?
The Colt's offense has played up and down yet their defense remains one of the best. Now Aaron Rodgers is a man who can destroy any defense but looks to be without Davante Adams for this showdown. That is why I say Jaire Alexander is the key to a Packer's victory. If he plays , my money is on Rodgers, if he's out – this Colts team has the playmakers available to run some serious clock and neutralize Green Bay's offense till 0:00 hits the scoreboard.
Please Jaire, the Titans need you!
The midday games culminate with an interesting matchup of mediocre underachievers, but only one is playing for the division lead.
Cowboys shock Vikings
Why?
There is so much offensive firepower present that I say the Madden Gods stay away from this game. Andy Dalton should return for this event and I oddly feel like he will come back much improved. The Vikings have been playing splendid football the past couple of weeks but if I learned anything from my time in Minneapolis, it all comes falling down when you least expect it and this seems like that time. Of course, this all hinges on Dalton playing but the Cowboys retake the lead in the NFC Least and we have some entertainment before the game we are all really waiting for.
Chiefs get revenge vs Raiders!
Why?
This Chiefs offense is fresh off a bye and gets Sammy Watkins back to go along with LeVeon Bell. Now you saw how I felt about the Raiders and I supremely want to get this pick wrong, but Andy Reid off a Bye week against the only opponent to beat him this season is terrifying. I don't have much else to say except Patrick Mahomes. ☹
Now for Monday Night, I'm picking with pure hate because I hate both teams
Rams stifle Bucs
Why?
I am a believer. The Ram's defense has purified my spirit and disgust I feel for Jared Goff. Brady may have two weapons but that doesn't bother LA one bit as they are playing a team game in all three phases. This game will shock every viewer because we will no longer be able to deny the phenomenal job Sean McVay has done coaching this team. On the other side, there will be another week of silence about Tampa Bay because that's what Tom Brady affords you, Non-accountability. Remember, this is coming from hatred so don't be surprised if I'm completely wrong, either way I'm smiling at the end of this one 😊
That wraps this weeks picks. I was 7-7 last week but I have a not-so-sneaky suspicion I will vastly improve this go round. Another special thanks to Brooke, JJ Jackson, Jovan Cutler, 99.9 Kate FM, & Tiger Communications because they allow me to shine!
Be sure to check out SportsCall Auburn Monday through Friday 4-6pm and follow that up with yours truly Monday through Thursday 6-10pm.
Saturdays are for the ladies 8-12midnight, don't miss out!