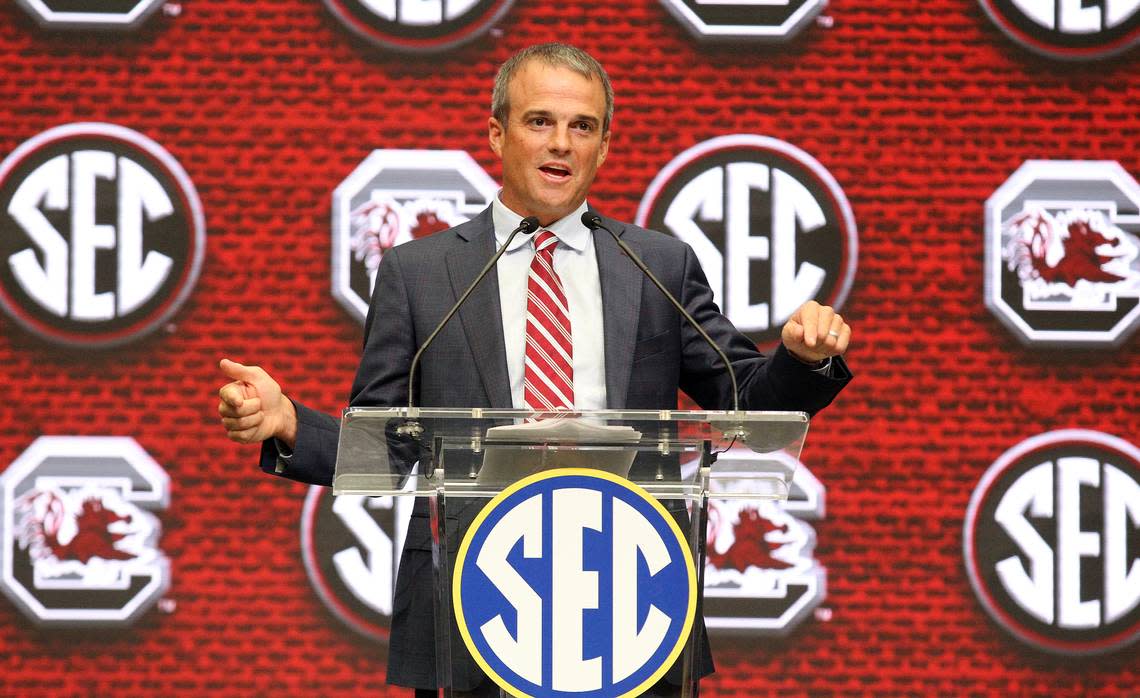 By: Ryan Lavoie
Day two of SEC Media Days began as it usually does with the SEC coordinator of officials presenting data and any rule changes for the upcoming season. John McDaid enters his third season as the Coordinator of Officials for the conference and revealed one rule change that will impact schematics.
New this year, there can be no blocking below the waist outside the tackle box, no matter what. Also, players can't block below the waist down the field, or if they began the play in motion. Additionally, the only defensive players that can go low have to start the play on the line of scrimmage, within the tackle box. Of most significance, this means tight ends can no longer block below the waist, and the days of blowing up blockers leading a screen by going low are over.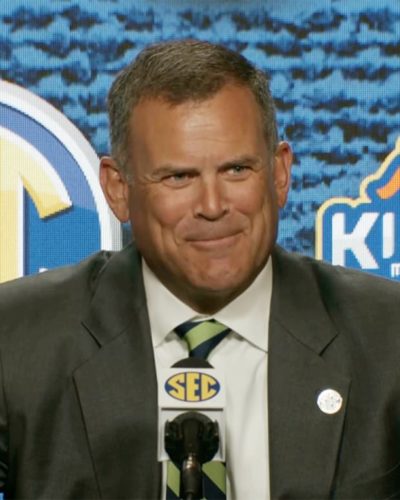 Some officiating stats that may or may not be of interest: overall game time has remained pretty flat since 2016, and actually went down a couple of minutes from last year, resting at 3 hours and 18 minutes a game. Replay stops went down from 2.5 a game to 2.2, and penalties a game stayed the same at 14.4. Finally, the dreaded targeting penalty gets called roughly 1 in every 5 NCAA football games. 
The second day of SEC Media Days is also headlined by Alabama. Nick Saban was mechanical in his address, and for whatever reason, the media that did get to ask questions asked some strange, and concentrated questions. Concentrated is normally good, but in a broader, less local setting, more questions about the league and college football as a whole would have been preferred. The one question on NIL that was asked did continue to illuminate Saban's stance that competitive balance in college football is in jeopardy, "…there's got to be some uniformity and protocol of how name, image, and likeness is implemented…The biggest concern is how does this impact and affect recruiting?…I think that is what can create a competitive balance issue between the haves and have nots."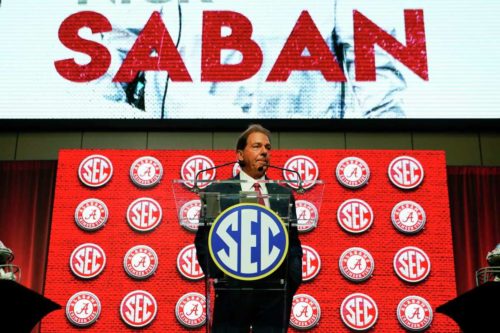 Saban would go on to say "There is no competitive sport anywhere that doesn't have guidelines on how they maintain some kind of competitive balance. I think that's important to college football. I think it's important to fans." Some will criticize Saban saying it's disingenuous or it doesn't affect him, and it doesn't. But, Saban has long been an advocate for the sport as a whole, and while he's always been willing to play ball however he needs to, it doesn't stop him from voicing his concerns whenever the sport is about to take a misstep. 
The always interesting Mike Leach began his turn at media days with the following opening statement: "I appreciate that. Any questions?" Leach with the definition of get on with it if there's ever been one. The most asked topic to Leach revolved around his unique air raid offense, rather than any NIL or transfer portal conversation. Leach explained he believes it's better to have too small of a package than too big of one, and that he's not pleased with some of the rule changes over the years, as he feels they're taking some of the potential trick plays out of the game. When Leach was asked of some of the more hot button issues, Leach rambled as per usual, not giving a firm stance on much, although reading between the lines, even the go with the flow coach would like some consistency and coherence on NIL.
The big takeaway from Shane Beamer at SEC Media Days is a coach that is trying his hardest to sell a program that in this league, is hard to sell. Beamer's charisma is up there with the best of them; so is his belief in South Carolina. "I think South Carolina is set up as well as anybody in the country, to be honest with you, from a name, image, and likeness standpoint. We're in the capital city of South Carolina. We're the only show in town."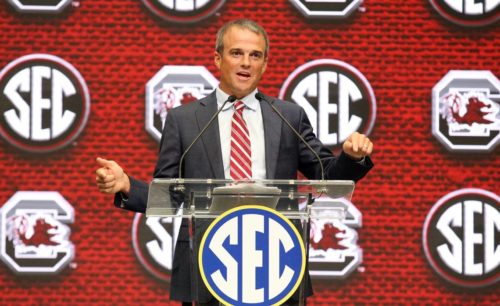 South Carolina does have the advantage of being in a state without a professional team, but it just doesn't have the history to stack up with the other giants of the league. Beamer's vision is what you need to shoot for, but it's much easier said than done in the Southeastern Conference.
That brings us to Vanderbilt. One of, if not the most impossible jobs in the sport. Clark Lea shared his vision of the Vanderbilt program. Rather than take a measured approach to steps Vanderbilt can take to slowly improve, Lea said "We know in time Vanderbilt football will be the best program in the country."
I'm sure in time, I will live on Mars as well. It's the punch line for a joke, but it is hard to blame Vanderbilt and Lea for saying they will one day do big things, that is the goal for everyone right? It's just another example of how it just means more.