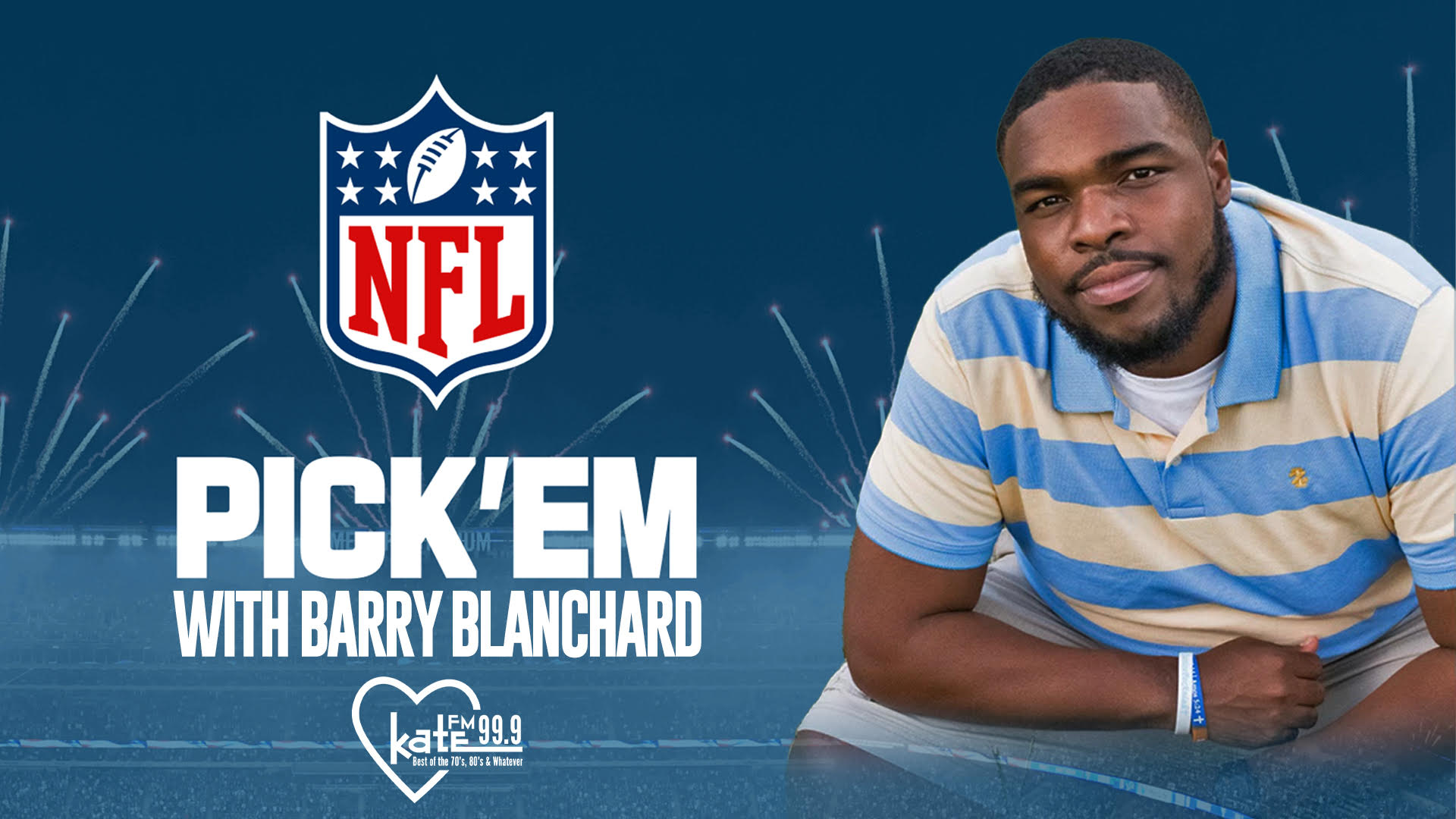 As I foreseen, the Las Vegas Raiders let me down but in a way no more could have expected. Jon Gruden is out thanks to his old emails resurfacing and him not seeming to understand this isn't the 1950's. The things he said were horrendous and it's something about Libra season that has all these hot-button issues coming to a head at the same time. 
   Now this is a football article and no place for solving social dilemmas, so lets talk about how the Bills completely dismantled the Chiefs on Sunday Night and Lamar Jackson Showed the world he can pass as well as run. Kansas City has no run game and the Bills "look" like they can't be stopped. Then you have Lamar Jackson taking criticism each and every week and using it as rocket fuel for that arm of his. 
    There looks to be a war for the top of the AFC and this isn't even mentioning the performance Justin Herbert put on against the vaulted Cleveland Browns defense. Those were my biggest takeaways and has me legitimately ecstatic to pick this week's games. This week I will be picking with love and let that guide the way since spoiler alert, I NEVER choose against the Titans and we play perhaps the best team Monday night. Just call me the Skip Bayless of Tennessee lol.
Tampa Bay takes care of business versus Eagles
Why?
       This game is an intriguing matchup. I have been high on Jalen Hurts all year and this easily is his greatest test to date. I say Tampa Bay wins simply off the strength of that offensive unit and the Eagles pension to make mistakes with ball security. I would love a high scoring affair for Fantasy purposes and Tom Brady is leading the league in passing yards but that Eagles D Line is reminiscent of the one that beat Tom 41-38 in the Super Bowl.  
     Jalen Hurts and the Eagles must find a way to begin running the football at some point this season, however LT Lane Johnson is out with a personal matter and no one has attempted to even formulate a way to run against this Tampa defense so it's all on the legs and shoulders of Jalen to pull this out….. somehow.
Jaguars get first win against Dolphins
Why?
    The Dolphins are spiraling fast and hard. Last year's dominant defense is nowhere to found and the offense is hit or miss. Enter a Jacksonville team that has come to the realization that James Robinson is a great RB and can win them games. He has had over 100 yards the past two weeks and it's looking like this week, he makes it three. 
    There is a possibility Tua comes back from injury and honestly, I don't think that makes this team any better. Jacoby Brissett has done pretty well but the Dolphins can't put their 3 phases together for four quarters. I like Jacksonville to put up a ton of points and make Tua or Brissett try and keep up. Dolphins lose two straight against Florida teams and ties for last in the AFC East with the Jets on a Bye.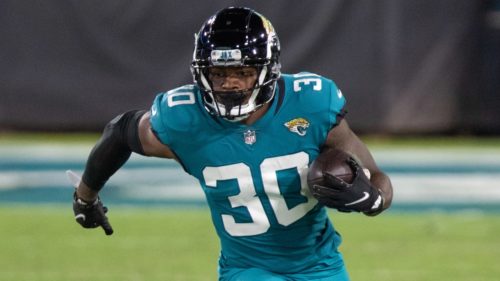 Vikings shock Panthers
Why?
     This is the game I've been waiting for! My cousin Elijah and I have gone back and forth all year about Sam Darnold and is he the QB to lead the Carolina Panthers to the Super Bowl. My reservations have been that I don't believe Sam Darnold can win the Panthers games, just manage them. So far it's been that way as the Carolina defense has carried this team and Sam makes sure not to mess things up. 
     Now enter the Minnesota Vikings and their explosive offense. This is all too perfect as the Panthers should get back McCaffrey and the Vikings should return Dalvin Cook. A full out brawl is about to take place in Charlotte and I'm here for it. I say the Vikings win off the strength since I have more faith in Kirk Cousins than Sam Darnold. Both may not the QB you want in the playoffs, but I've witnessed regular season Kirk put in that work *bars*. It will be up to Sam to match the Vikings tic for tac and perhaps even pull off a game winning TD drive which is exactly what I hope to see.
Now for the most exciting AFC matchup…
Justin Herbert outduels Lamar Jackson in highest scoring game of the year!
Why?
     My oh my, what a performance these two QBS put on in Week 5! I say it's a 4 way dead heat for MVP Between Herbert, Lamar, Josh Allen, and Kyler Murray. Honorable mention to Derrick Henry for God's work he is doing with that playcalling in Tennessee.
     However, I digress because that Cleveland-Chargers game was the best I've seen all year. I believe I even saw that Cleveland was the first team in NFL history to have over 40 points, no turnovers, and still lose the game. That is how phenomenally Justin Herbert played last week. I love the coach Brandon Staley and pretty much everything about that Los Angeles team.
     Then you have the comeback by Lamar Jackson against a pretty solid Indianapolis team. He made them look silly with dime after dime and didn't even give them a chance in OT. I know he saw what the Chargers did last week and will be ready to perform come Sunday afternoon, but this man Justin doesn't feel like he can be contended with right now. My money's on him.
Rams throttle Giants
Why?
     I had DEEP faith in the New York Giants. I saw a defense that came on strong late last year, a team that made some great offseason acquisitions, were flush with talent on both sides of the ball, and then physically died on Sunday versus the Cowboys. Perhaps it was that Dak Prescott juju coming back around because New York lost its starting QB, RB, and WR with two other WRs in Sterling Shepard and Darius Slayton already out. I also put my Giant faith in my fantasy lineup believing Dallas and New York would be a shootout only to lose starting Kenny Golladay over……Mike Evans.
     I feel ashamed but the positive aspect is now I know sometimes faith isn't enough to carry a chaotic organization. That's why this date with the Rams is so unfortunate for them because they are a team that is both well-constructed and prepared. Danny Dimes is "looking good" in the concussion protocol so he may be able to suit up but it won't make a difference in the win-loss column.
Colts rebound against oddly competitive Texans
Why?
    Now I love a good AFC South matchup because somebody has to lose but this one is a head scratcher. I saw an Indy squad that had it in the bag and let it slip against the Ravens last week so I assume they will come back stronger against a struggling Texans team, but the Texans gave Bill Belichick a minor heart attack on Sunday so who knows, this may be close.
   Once again, for Fantasy purposes, I hope Davis Mills throws Indy a couple pick sixes but I have gained much respect for Texans head coach David Culley and how he is steadying this sinking ship of an organization.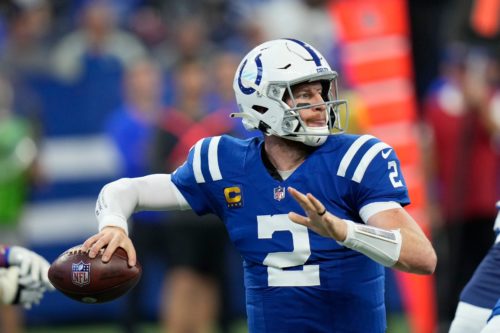 Chiefs and Washington go down to the wire, but I say Chiefs win..
Why?
       Now this pick is strictly off Patrick Mahomes respect and I want to be wrong but I said I was picking with love. There is nothing I love more than the truth and the truth is, Kansas City's offense should be able to take care of business. Washington has not had the defense everyone expected and it has been up to Taylor Heinicke to keep them in games. This affair will be no different as Kansas City has something to prove and must do it quickly with the Chargers starting to pull away.
     Simply put, they cannot afford this loss AT ALL. If my boy Taylor is able to pull out this win, it solidifies him as Washington QB for the foreseeable future and that's what I'm praying for. I think this will be a "whoever possesses the ball last" occasion and who's defense can make the game-changing play needed to finish it off. 
God I love football!!
Packers handle Bears
Why?
       Chicago is a team that knows Aaron Rodgers very well. When they play, they seem to rattle him in the first half then he comes back in the second half and lights them up. I think this game follows a similar script with Justin Fields and company running the football to keep Rodgers at bay. 
       However, we've seen it before, Aaron Rodgers doesn't need hardly any time to put a scoring drive together, especially when they require one. I like Green Bay to start and exhibit that level of defensive play we seen last year but instead of it being in the passing game, it's in the run game. Jaire Alexander is out but they acquired Jaylon Smith from the Cowboys and this is the perfect test to see if they can make run stopping their defensive identity.
Stack the box, force Fields to pass, and watch the magic happen. 
For our last afternoon game, to the fans of Detroit, y'all got the head coach to turn this organization around! I'm rooting for you!
Bengals survive Detroit
Why?
     I will be completely honest, I am choosing the Bengals to win simply off the strength that I play Fantasy Football. In reality, I want this Detroit team to get its win so bad that I almost picked them. That is how deeply I love Motor City Dan Campbell. To see that type of passion and commitment to the sport is so rare nowadays. Seeing him shed tears in that press conference was the saddest football moment for me since Luke Kuechly's retirement announcement. I simply have no reasons to champion Detroit to win this football game but Heart is a huge factor so if Detroit wins, I'm celebrating as if I picked it myself. I still need them Fantasy points though so Go Bengals offense lol.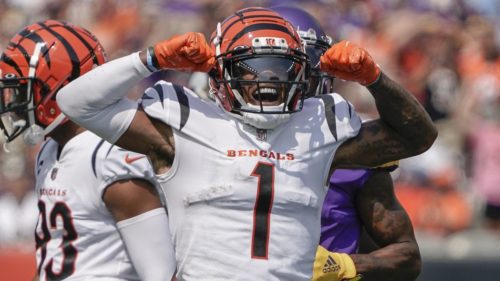 Browns end Cardinals undefeated streak!
Why?
    Kareem Hunt and Nick Chubb are my muse. The type of football they represent is why I love the game. Hard-nosed, gruesome, soul-snatching run after run after run after run with no break, to paraphrase Marshawn Lynch, is euphoric to me. The O-Line is built for this, ODELL BECKHAM IS BLOCKING, and it's looking like they will get Jarvis Landry back this week.
     Now the Cardinals are no pushover, Kyler Murray is playing lights out but Cleveland just played Justin Herbert so It's nothing new for them. This Browns team is ready to keep him on the sideline and chew the clock into oblivion. That's it, that's all.
Cowboys destroy Patriots
Why?
      I'm done with the 2021 New England Patriots. They released Cam Newton for Mediocre Mac and traded their best corner only to not be able to stop a rookie backup on perhaps the worst team in football. That game against the Texans had no business being as close as it was and now you get the best Dallas team in about 6 years entering your territory. I hope Dak, Zeke, and company blow the roof off the Patriots so I never have to hear another word out of Peter Schrager's obviously bought mouth. I know I said all love, but New England is that one team that irks me with their inconsistency and national coverage even when they play like booty cheeks. I can't wait to watch how Skip Bayless speaks on the outcome of this game!
The afternoon comes to an end with those nifty Las Vegas Raiders and interim head coach Rich Bisaccia. Result?
Broncos make New Raiders 0-1
Why?
      Drama will be the downfall for Vegas this week. There's too much going on within the organization to focus on football. Teddy played admirably coming off a concussion against a very good Steeler defense. This game will be much easier for him and Denver. I don't know what this Raiders team will look like now that they have new leadership and Denver's defense is not the unit you want to attempt to figure it out against.
     As I sated at the beginning of the article, this is about football, not societal dilemmas but in the game of football, you need your head coach and to be focused. I don't believe Vegas has either. 
My toughest choice comes in this Sunday Night matchup. If I'm going with Love…
Steelers win.
Why?
    I enjoy a good unknown and that's what the Seahawks possess in Geno Smith. On this one, I want to be wrong so bad because I have a bet against the Steelers. However, I saw the Steelers do work against a great Denver defense last week so I can't see the Seahawks fairing any better. Losing Juju is a blow but James Washington looks like he will return so the depth is there. Chase Claypool had his coming out party last week and Najee Harris played like the best RB from the draft. I don't have much data on these Geno Smith Seahawks but I'm still rooting for them more than my perfect week. (It's coming BTW)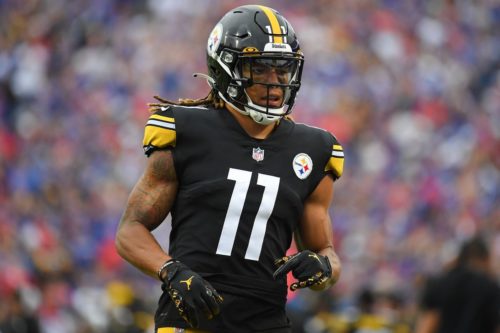 The NFL saved the best for last and now I shall give you my dissertation on how the Titans can and will beat the Bills.
Julio returns to save the day and Titans put the world on notice! 
Why?
      Simply put, no one is expecting Tennessee to have a chance in this game. I know from experience that the Titans play their best football against Buffalo. I've seen it the past 2 years, we know how to game plan for Josh Allen. Now, the issue here is our health and our offensive play calling. We no longer have the wizard Arthur Smith so that puts a huge strain on Ryan Tannehill and our O-Line. I got word we will finally be inserting our 2nd round RT Dillon Radunz and I enjoy that prospect.
    This will be our roughest challenge all year. I feel helpless but Mike Vrabel understands that Tennessee is gonna need to put up points and make sure Josh Allen gets pressured. I expect (and hope) there are many blitzes, man and zone, and that we can win the turnover ratio. Derrick Henry must be utilized in the pass game and for the love of God, some diversity of what we do on first and second down. This game will decide if the Titans are a true contender or not, especially with Kansas City on tap for next week. 
      In conclusion, I am not worried but I am anxious. Todd Downing makes me feel ill but we have the talent to overcome his 2002 offensive scheme. It all comes down to Josh Allen versus Tennessee's offense. That's why Julio must play. Points will be scored, and if we have the ball last with an opportunity to win, I know we have played the best game possible.
That'll do it for this week's edition. A special thanks to Jovan Cutler for his hard work and Tiger Communications for the platform. 
Next week, I will do a trimester check in and give feedback on the prospects of where each team is headed. Make sure to tune in to The Bear Den Monday-Thursday 6-10pm for anything and everything from football to reality TV. Until then, Shoutout The Lord and Stay Spiffy!